Guest Post by Ann Barnhardt
OK, folks. All AV Nerds should download this before they delete it.
The timestamp you want to hone in on is 02:33:40. This guy presenting SKIPS THE SLIDE, so it is only visible for a fraction of a second, but it can be easily isolated.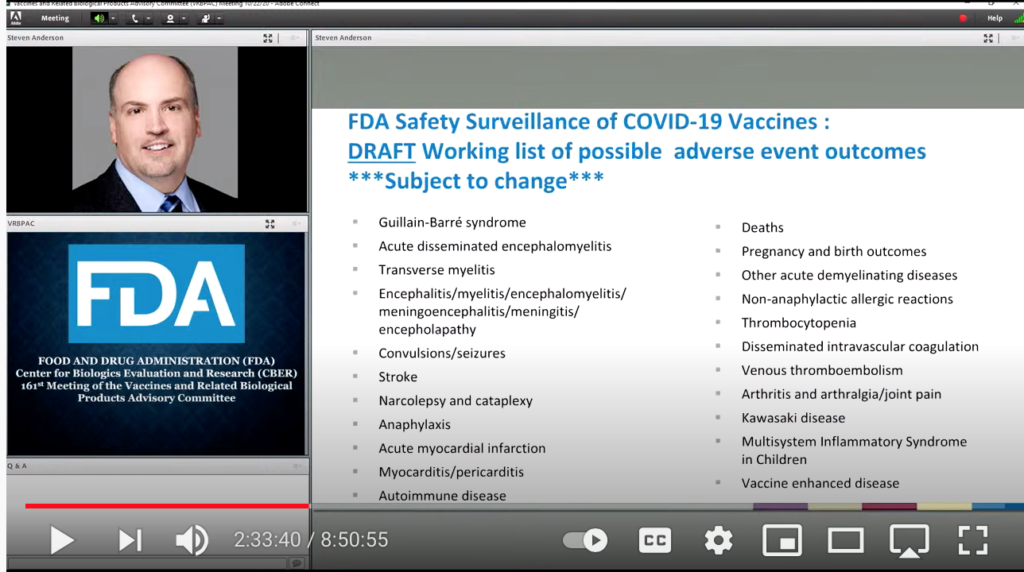 Let me type the text on the slide up so it will populate on search engines:
FDA Safety Surveillance of COVID-19 Vaccines: DRAFT Working list of possible adverse event outcomes ***Subject to change***
-Guillain-Barré syndrome
-Acute disseminated encephalomyelitis
-Transverse myelitis
-Encephalitis /myelitis/encephalomyelitis/meningoencephalitis/meningitis/encephalopathy
-Convulsions/seizures
-Stroke
-Narcolepsy and cataplexy
-Anaphylaxis
-Acute myocardial infarction
-Myocarditis/pericarditis
-Autoimmune disease
-Deaths
-Preganacy and birth outcomes
-Other acute demyelinating diseases
-Non-anaphylactic allergic reactions
-Thrombocytopenia
-Disseminated intervascular coagulation
-Venous thromboembolism
-Arthritis and arthralgia/joint pain
-Kawasaki disease
-Multisymptom Inflammatory Syndrome in Children
-Vaccine enhanced disease