Don Bowman
In my opinion:
~~~~~~~~~~~~~~~~~~~~~~~~~~~~~~~~~~~~~~~~~~~~~~~~~~~~~~~~~~~~~~~~~~~~~~~~~~~~~~~~~~~~~~~~~~~
Have you figured it out yet?  Has it dawned on you that any vaccine supposedly being developed to fight a bogus virus is not about your health?  Has it occurred to you yet, that the sudden refusal of retailers to accept cash, the claimed "shortage of coins" is for one purpose only?  To move to a digital currency.  Just as an added plus:  you can't buy, sell, work, seek medical attention, fly, buy insurance, or do anything else an individual would do in the course of any routine day unless you have this mark on you.
The so-called vaccine has one purpose, and one purpose only…. to implant a digital tattoo that can be accessed at any time without your consent, from anywhere at any time.    But many of you fools will fight to be first in line to be intentionally infected with whatever they load into the deadly jab.  Personally, I believe everyone who gets this dummy vaccine should be branded on the forehead so we know who to stay away from.  These are the people who should self-quarantine for at least three weeks to prevent the spreading of the diseases they willingly were infected with.
As an added irritant, I could just blow chunks watching people line up and wait for hours to be swabbed for a virus that is nothing more than the common cold.  Unless of course you got last year's flu vaccine which was laced with four strains of corona; one of which is the strain that causes this terrible pneumonia.  But I can't help but notice they aren't collecting any stats on that.  Wonder why that is?
Did anyone else notice drop in infant mortality during the lockdown?  Parents were not sacrificing their babies at the alter of CDC and pharmaceutical companies.  Infant mortality dropped an estimated 70% as a result of parents foregoing well baby checkups and routine vaccines.  But many of you will hand your baby right over to be infected with mutated viruses, bacterium, fungi, the DNA of non-related species, mercury, aluminum, and other toxic material.
Hey! I have an idea!! Why not combine theses deadly childhood vaccines with the implantation of a digital tattoo?  It could be done when the baby is first born, has no defenses and is completely vulnerable.  You could combine with the HepB vaccine that is totally unnecessary, or the vitamin k shot that is 50% aluminum emulsion that travels directly to the brain!
Chances are they are already doing this if not planning it in the near future.
Dear America…. Why are you so gullible?
~~~~~~~~~~~~~~~~~~~~~~~~~~~~~~~~~~~~~~~~~~~~~~~~~~~~~~~~~~~~~~~~~~~~~~~~~~~~~~~~~~~
It was simply this—fewer babies were brought to pediatricians for childhood vaccines (given at birth, 2, 4, 6, 12, 18 months, etc.). That resulted in fewer babies dying from crib death or SIDS (sudden infant death syndrome). From the paper:
SIDS deaths are one of the two largest causes of death among infants aged 1 month to 1 year. (8)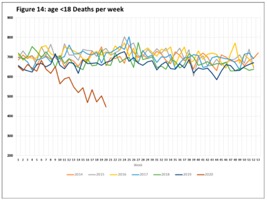 U.S. mortality rates have declined among young people during the lockdown, especially among infants. These trends have gone largely unnoticed and remain unexplained. 
~~~~~~~~~~~~~~~~~~~~~~~~~~~~~~~~~~~~~~~~~~~~~~~~~~~~~~~~~~~~~~~~~~~~~~~~~