by Brian Shilhavy
Editor, Health Impact News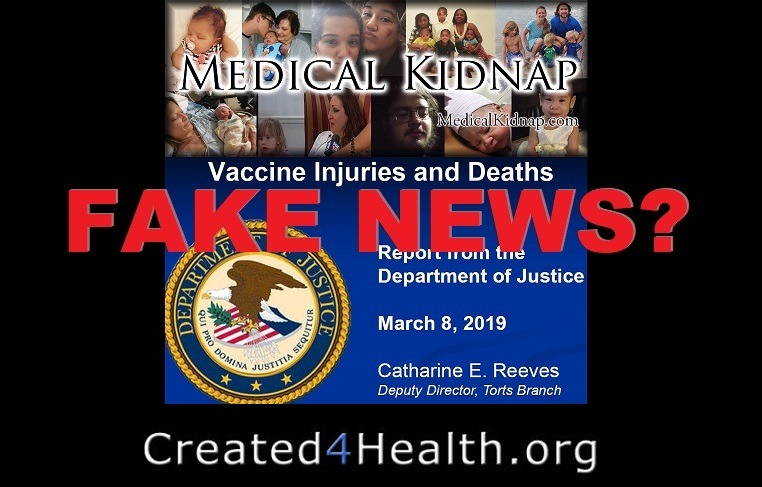 Health Impact News was recently contacted by John Gregory, a medical reporter working for the company NewsGuard, a self-appointed Internet policing group that awards "nutrition badge" ratings for websites determining if they are "reliable" or not.
Mr. Gregory accused me right up front of publishing "false" claims, and asked me to comment on a list of articles in our network that he determined were "false."
Curiously, one of the articles he chose to exhibit as something published that was "false" was one of our articles on the Department of Justice quarterly reports on compensated cases for vaccine injuries and deaths in the U.S. Vaccine Court, submitted every three months to the federal government Advisory Commission on Childhood Vaccines (ACCV) under the U.S. Department of Health and Human Services.
The article is reporting what is public information from government sources. It is not even considered controversial, and in the introduction I even write: "The fact that the annual flu shot is deadly and dangerous is not a fact even in dispute." The flu shot is by far the most compensated vaccine for settlements in the U.S. Vaccine Court each year, according to these government reports.
The controversial part of the flu shot that is in dispute is how many people are actually injured and killed by the flu shot every year, because government health agencies claim the number is very low, and that the risk of dying from the flu is greater, justifying the continued practice of mass influenza vaccination.
So I asked Mr. Gregory:
My question to you: What is NewsGuard's criteria for whether something is "false content" and "false claims"?

What are you claiming in this article is "false"? We are, to my knowledge, the only site that publishes the Department of Justice quarterly reports on compensated cases for vaccine injuries and deaths in the U.S. Vaccine Court, at the federal government's Advisory Commission on Childhood Vaccines quarterly meetings. Everything in this article is based on verifiable government documents available to the public, including the GAO report.

What is false?
The only reply Mr. Gregory supplied was the canned response from their website:
You can read more about NewsGuard's nine criteria, which evaluate a website's credibility and transparency practices, here: https://www.newsguardtech.com/ratings/rating-process-criteria/

To pass the first one, "Does not repeatedly publish false content," we explain that "The site does not repeatedly produce stories that have been found—either by journalists at NewsGuard or elsewhere—to be clearly and significantly false, and which have not been quickly and prominently corrected."
So I replied back to Mr. Gregory that this reply still did not answer my question:
Yes, I did read what you have published on your website regarding "criteria," but that does not answer my question as to how you determine what is "false content" and "false claims." The normal definition of "false" content or claims would be something like: Person xyz was arrested on charges at x date, when the fact checking would determine that this person never was, in fact, arrested or detained on any charges. Determining that it is "false" is based on the facts, not opinion.

So is NewGuard basically an editorial board rendering opinions, without fact checking?

The best way you could explain your process of determining what is "false" is by answering the questions I posed in my first email regarding the examples of articles you are claiming are "false." For example, the article about the flu shot that you state is "false" is based on factual evidence supplied in public sources, and those sources are government sources. Do you doubt, for example, that the U.S. Vaccine Court is paying settlements for vaccine injuries and deaths?
Mr. Gregory once again avoided the question and gave another canned response that was not even appropriate to my question, because the article in question was not making health claims but reporting vaccine injuries and deaths:
In determining whether health claims are false or unsubstantiated, the trained journalists at NewsGuard rely on authoritative sources, reporting from major news organizations and reliable, peer-reviewed scientific evidence. We do not rely on limited anecdotal claims and personal testimonies about a treatment's benefits.
Therefore, it seems that NewsGuard is making editorial decisions, and not fact checking anything.
Pharmaceutical Industry Bias
John Gregory is listed as a "Staff Analyst" on the NewGuard site and his bio states:
John Gregory is a Staff Analyst for NewsGuard based out of Chicago. He previously served as a senior reporter for TriMed Media's HealthExec.com, covering health care policy, regulation and business.
HealthExec.com and its parent company, TriMed Media, are trade publications for the medical and pharmaceutical industry.
I noticed that neither website was rated by NewsGuard so I asked Mr. Gregory:
How does NewsGuard determine which sites are "news sites" that need to be monitored by your service? For example, I noticed that your former employer who utilized your journalistic skills, https://www.healthexec.com/, is not rated.
His reply:
We determine what sites to rate largely based on how often their articles are shared on social media. HealthExec.com generates far less traffic than your sites.
So I asked him:
Do you have this criteria published anywhere that you use to decide which sites to rate and which ones not to?
He did not supply any reference to a section of the NewsGuard website where the criteria is published as to which websites get evaluated and rated and which ones do not.
But judging from the fact that NewsGuard has given negative ratings to any website that presents evidence against the belief espoused in the corporate-sponsored "mainstream" media's narrative that "the science is settled" regarding vaccines and that no other views besides the view that all vaccines are "safe and effective" should be allowed to be published, I think it is safe to say that the main reason NewsGuard chose to review our websites was because we used our First Amendment rights to publish contrary evidence about vaccines, including articles from medical doctors, scientists, and attorneys who present the other side of the vaccine debate.
I asked Mr. Gregory, as a medical journalist, if the belief that "the science is settled" was ever applied to any other medical products or topics besides vaccines:
You are a journalist, so let me ask you: Have you ever interviewed scientists or other medical professionals who would make such as statement regarding any other topic besides vaccines where the "science is settled"? Is this a factual statement, or is it false? New vaccines are being developed all the time and entering the market, and is the public to understand that the science for all vaccines is settled?
I received no reply to these questions.
MedicalKidnap.com and Created4Health also Rated as "Unreliable"
Curiously, when they gave Health Impact News a negative rating, they even gave a negative rating to Created4Health.org, which is not even a news site but a site where I publish my devotional articles based on Bible studies, a site that receives far less traffic than HealthExec.com.
They also gave a negative rating to MedicalKidnap.com. Mr Gregory accused us of simply taking unverified social media posts from parents who claimed their children were being kidnapped by the state, and asked us if we even bothered to verify their stories. My reply:
We have been publishing Medical Kidnapping (this is a term I originally coined) articles since 2014, and the articles that we break are meticulously vetted.

Not only do we interview the parents and family members, but we also obtain supporting documentation including court documents and attorney statements in the articles where we break the story.

Many times, local news sources or even national news sources (such as Dr. Phil) also pick up our stories. It can sometimes take weeks, or even months, to research and publish one of these stories.
This answer apparently did not satisfy Mr. Gregory, because he still pointed out two stories where we used Facebook postings, even though I explained to him that these stories were still vetted. One was the video of Charity Lewis in Kentucky who had her daughter Demiyah die while in foster care, and the video went viral before we even published her Facebook video.
Local news affiliates in Kentucky (rated Green and reliable by NewsGuard ironically) confirmed that her daughter died while in foster care.
How sad that now some unsuspecting readers may be fooled into thinking that NewsGuard's ratings are based on fact instead of editorial decisions, and may erroneously think that the stories on MedicalKidnap.com are not true.
NewsGuard Demands Transparency without being Transparent Themselves – How Does NewsGuard Make Money?
Mr. Gregory went to great lengths to point out that I own a company that sells coconut oil, and that I do not disclose this fact within articles that I write about the health benefits of coconut oil. He also claimed that we did not disclose who owned Health Impact News.
I replied to him and showed him the About Us section of Health Impact News where we clearly disclose these facts, especially that I am the founder of both companies. They were not satisfied with the word "founder" to equate ownership, so we changed this to make it clear that I am the owner of Sophia Media, LLC.
I also explained that FDA laws prohibited me from promoting my own coconut oil products where health benefits are being made, as the FDA only allows approved pharmaceutical drugs to make disease-curing claims.
He challenged me on this point, so I pointed out to him that in 2005 the FDA sent us a warning letter stating that customer testimonials, links to peer-reviewed literature, and other text on the website where we were selling coconut oil constituted marketing coconut oil as an "unapproved drug" and demanding that we remove them.
We had to hire a regulatory attorney to help us navigate through these FDA issues or have our products seized by U.S. Marshals. We put all the articles about the health benefits of coconut oil on a separate website (coconut-info.com which was later changed to coconutoil.com after we purchased the domain name). This was the genesis of what is today Health Impact News, as we felt the public had a right to this information that was being censored.
Who wouldn't want to link to their own products from information about how much a product like coconut oil was improving their lives? There is absolutely no logic to the idea that I was hiding this fact to benefit myself somehow, where I was clearly not benefiting from being able to link to my own coconut oil products.
As a result, anyone selling coconut oil could benefit from our information, and that is exactly what happened as the public woke up to truth about the edible oil industry and started demanding more coconut oil, which today can be purchased in just about any store selling groceries now.
But what about NewsGuard? How do they derive their income? Their website states:
Our revenue comes from the platforms and search engines for licensing our ratings in order to include them in their feeds and search results.
So I asked him:
Since Google accounts for more than 90% of all Internet searches, can you please tell us how much revenue you obtain from Google for your services?
His reply was:
We have no business relationship with Google at this time.
So I asked again:
If you do not earn revenue from Google, then which search engines do you receive revenue from? Can you provide a list of companies that pay for your services?
They refused to answer this question.
Who are NewsGuard's clients? This seems to be a closely guarded secret, as on their United States Securities and Exchange Commission Form D filed March 5, 2018, there is an option for disclosing the size of its revenue, but that box was checked, "Decline to disclose." (See Dr. Mercola's article on NewsGuard below for more info.)
The NewsGuard Browser Add-on is Not Popular: More 1 Star Ratings than 5 Star
Since starting with great fanfare with the corporate-sponsored media in 2018, NewsGuard's browser add-on has had time to be used by Internet users, and the reviews are not very good. There are generally more 1 star reviews than 5 star reviews in the four browsers where their add-on is available to rate websites.