Join us this evening June 5th 2017 at 7:00 pm CST!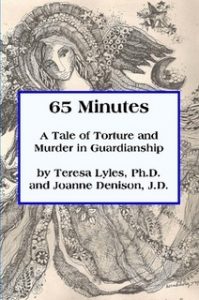 Order your copy HERE!
Listen live at 7:00 pm CST!  HERE!
Call in #
917-388-4520
Hosted by Marti Oakley
~~~~~~~~~~~~~~~~~~~~~~~~~~~~~~~~~~~~~~~~~~~~~~~~~~~~~~~~~~~~~~~~~~~~~~~~~~~~~~~~~~~~~~~~~~~~~
Join us this evening as Teresa Tozo Lyles co-author of the book "65 minutes: a tale of torture and murder in guardianship", discuss the guardianship of Teresa's mother and the events that led up to it, and the aftermath. 
Summary:
The book is mostly about my mom, but it is also about my relationship with my mom. She was put under guardianship in May 2011 after a 65 minute competency hearing, where she went without her attorney. In Alachua County, Florida, this is against the law. Our county is not "pro se." I confirmed this with the State Attorney and a probate attorney. My mom died on May 24, 2015 in a nursing home that was operating illegally without a license:
1) In 1999, my father died after an illness from lung cancer due to asbestos poisoning. After he passed, I worked with a Miami based law firm to file multiple law suits on behalf of my dad for my mom. My 2 sisters refused to be a part of the process. Within a year, my mom was receiving settlement checks.
2) My mom, aunt and uncle moved to the Gainesville area in December 1999.
3) In 2001, I started my Ph.D. at the University of Florida
4) In 2004, I went through a very bad break up after being married 25 years and 3 children. I was still in grad school. I got no child support for 5 1/2 years. My mom, aunt and uncle helped my children and I get through these difficult times, while I tried to get on my feet.
5) In 2007, my uncle passed, and then my 2 sisters began talking about putting my mom and aunt in a nursing home. My 3 daughters and I were the primary caregivers for both ladies.
6) In 2009, my mom gave me a loan to buy a truck after my old car died. My sisters found out and began to harass me about the loan.
7) My sisters continued to make attempts to put my aunt and mom in facilities in 2009, 2010. In late 2010 and early 2011, one of my children got very ill, and was basically in ICU for a long period of time. It was during this time that they began their plot to put my mom under guardianship. They hired a local attorney to begin the process.
8) In April 2011, I was contacted by DCF for the first time. There were three calls all together. They were called by my older sister and her abusive boyfriend at the time. They claimed I was abusing my mom, and taking her money. DCF dropped all charges and found them unsubstantiated. This was the same for the 2nd and 3rd calls.
9) In June 2011, she was appointed an emergency temporary guardian, who was personal friends with one of my sisters, and who also had the SAME attorney as the one that my sisters had hired. This is cause for recused. In September 2011, she was appointed a permanent guardian. My mom had a will, but it was ignored.
10) My mom's wishes were to stay her in home, but she was drugged and removed from her home on May 25, 2012 and taken to the lock down portion of the facility . I had no idea where they were taking her or what day they were doing it.
11) After only 26 days in the first facility with drugging, taking away her glasses and her dentures, my mom was taken to the ER for the first time with dehydration, a UTI and malnourished. She called me from the ER on my cell phone. According to all three guardians, these actions were "in my mom's best interest."
12) The first guardian was asked to resign in June 2013. During this time, the harassment continued, and constantly trying to prevent me and my children from seeing my mom. During this time,I lost visitation because I refused to agree to "speak English only" to my mom, and also because I approached my mom in church and gave her a kiss.
She continued to be drugged, including issuing a "Chemical Restraint."
13) A new guardian was appointed in August 2013, she moved my mom to another facility, which was ant infested and in a horrible neighborhood in the next county. I didn't know where my mom was for 48 hours. This 2nd guardian died in January 2014. She had a terminal illness and was on multiple medications, which was never disclosed in court and according to law, she was not eligible to become a guardian. I did not see my mom for 6 weeks from Nov. 12 to Dec 25, 2013 without a court order.
14) My mom's 3rd guardian was appointed in April 2014, which mean my mom was without a guardian for about 3 months. She continued to be drugged.
My mom fell about 30 times in the time she was out of her home, including multiple head injuries. While she was under my care up until 2011, she never went to the ER for a fall.
15) 9 months prior to my mom dying, this 2nd facility lost it's license to operate, but they kept paying the guardian, and kept taking my mom's money to pay this facility. The co-owner of this facility was a convicted felon, who also happened to be a friend of the 3rd guardian.
16) In March 2015, the guardian attempted to convince a medical team at the local hospital to put my mom under Hospice, but they refused. Three days later, the guardian contacted the local hospice, and put my mom under hospice care. I was not "put on the list" of family to speak to hospice. I was unable to even speak to hospice about my mom.
My mom's money was running out, so they needed to kill her quickly.
17) 5 days before she died, I was threatened with arrest, which they had done numerous times during the guardianship.
Let me know if you have any questions.
Teresa Tozzo-Lyles, Ph.D., CHES